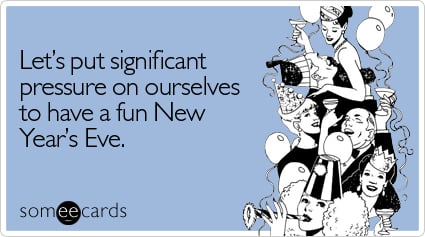 I do this every year- without fail. Normally I am indecisive up until the very last minute. I hem and haw over where I can go to be the least uncomfortable about not having anyone to kiss at midnight. A few years ago it ended up being a very lucky drunk boy from Staten Island
(shame)
. Luckily this year my boyfriend has the night off so I can calm my worried mind!
(don't worry- the Staten Island boy was before I started dating my BF)
I am going to try not to go overboard, or spill a drink down my dress, or fall down stairs, and most importantly...I am going to relax, have fun and
STOP
thinking this night is such a big deal!
Happy New Year!